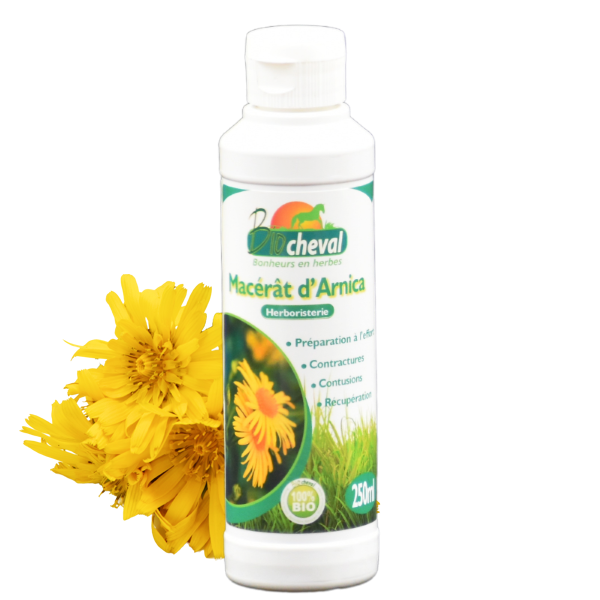 Arnica macerate
Relaxing and soothing massage oil for the care of highly stressed muscles and the natural attenuation of bruises. Arnica flowers macerated in sesame oil. 100% organic. External use only.
Livraison gratuite
En France à partir de 75 € d'achats
Paiement sécurisé
Paiement en ligne 100% sécurisé
Garantie satisfaction
Retours gratuits pendant 30 jours
Service client
Du lundi au vendredi de 9h à 18h
- Benefits of the arnica in external.
The macerate of arnica is traditionally used for the current care of the equids: muscular pains and contusions without gravity.
Its relaxing and alleviating action contributes to the maintenance of a good muscular flexibility. Its fluid texture allows comfortable movements for the horse since it does not stick to the hair. These qualities make it a remarkable massage oil that constitutes an excellent base for the dilution of essential oils.
We select flowers whose quality allows to benefit from all the known benefits of arnica. We have chosen sesame oil as a support because it preserves the elasticity of the skin and allows the penetration of the active ingredients to the hypodermis, the muscles and the synovium.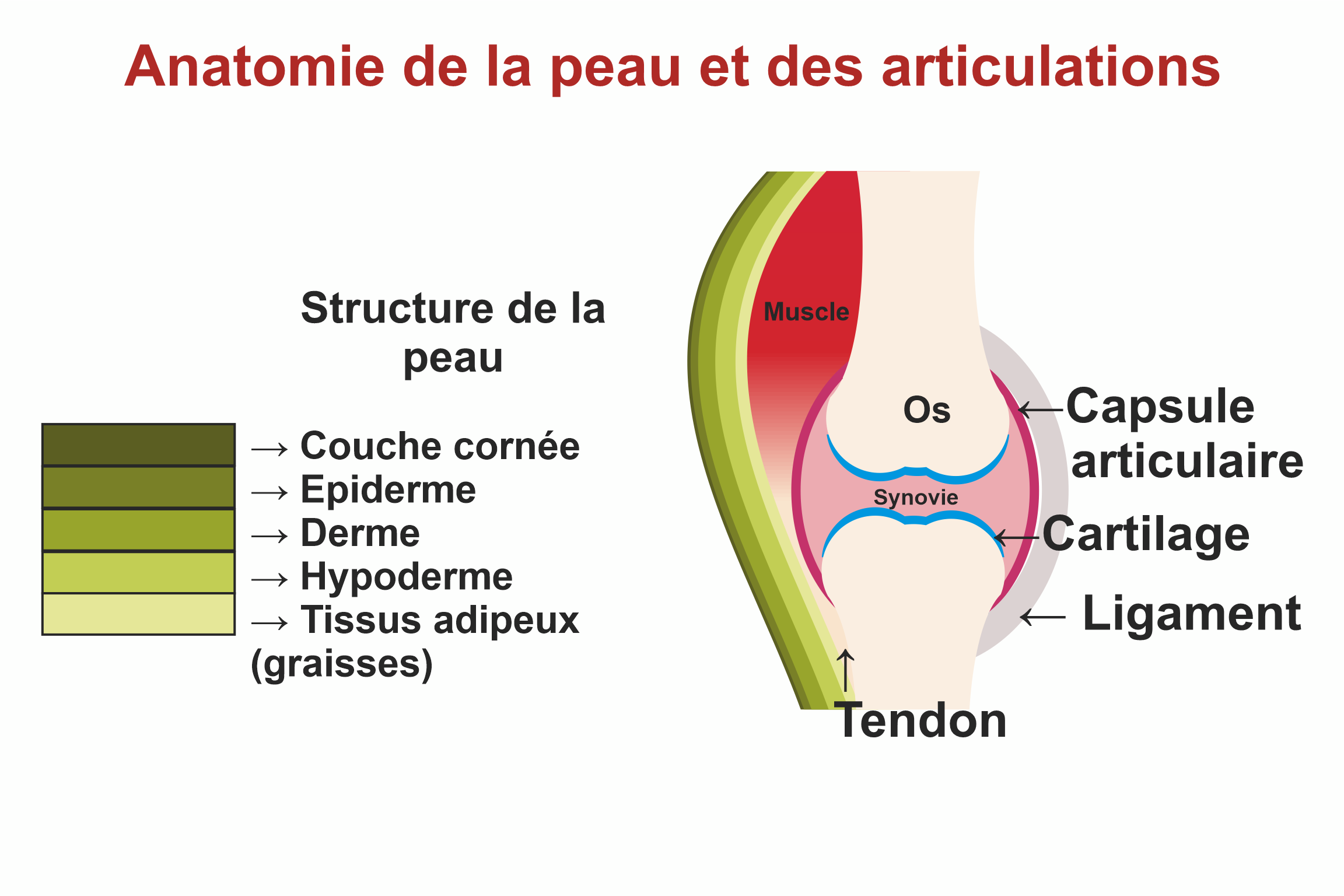 Diagram of the structure of the tissues at the level of the joints. Not all vegetable oils have the same degree of penetration. Thus, the choice of the carrier oil will vary according to the use of the macerate: skin care or massage oil.
- The interest of massage for the horse.
→ It is an excellent opportunity to detect any discomfort or contractures.
→ The horse finds more pleasure and well-being in the interaction with its rider/caretaker, which facilitates care and work sessions.
→ Finally, preventing soreness allows the horse to retain pleasant memories of the sessions with its rider.
- Composition:
Flowers of arnica* macerated in sesame vegetable oil*.
The preparation obtained is filtered to eliminate the fragments of flowers and conditioned without addition of additive.
*100 % of the composition comes from organic agriculture or from wild harvesting controlled for a use in organic production.
The formation of a cloudy deposit in the oil is quite normal.
-
Precautions for use:
→ External use only.
→ Massage thoroughly dry areas so that the oil can penetrate properly.
→ Store away from light, frost and moisture.
At low temperatures, the oil will have a solid consistency making it less convenient to use. Simply place the bottle at room temperature and it will return to its liquid texture
→ Oily macerate and sun exposure.
Arnica is a plant that can cause increased UV (sun) sensitivity in the treated areas. However, we reduce this risk by using sesame oil, which filters some of the UV rays.
It is always preferable to apply a treatment outside of the hours of strong sunlight. If the oil is applied during the day to a horse living in the paddock / meadow, try a small area the first time.
- Presentation
Bottle of 500 ml of oily macerate of arnica.
Préparer le produit de votre équidé avec le plus grand soin
Tous les produits sont conditionnés dans des contenants étanches et opaques adaptés pour le stockage sécurisé des denrées alimentaires sensibles à l'humidité et à la lumière. 
Utiliser des matières premières végétales non altérées
Les usages traditionnels des plantes dites aromatiques et médicinales s'appuient sur une expérience datant d'avant l'utilisation des pesticides. Pour garantir les propriétés de chaque plante, nous n'utilisons que des ingrédients garantis sans traitements chimiques. Et ce indépendamment des exigences de tout label, simplement parce que nous croyons sincèrement que cela rend nos produits meilleurs. 
Préparer des compléments de qualité en bannissant les sous-produits
Nous utilisons les parties des plantes riches en actif. Ainsi, vous pourrez, si vous connaissez un peu les plantes, reconnaître aisément la fleur de camomille, la feuille de ginkgo biloba ou encore les fleurs de souci.
Garantir votre satisfaction
Nous sommes convaincus par l'efficacité de nos produits et nous nous engageons à vous les rembourser si vous n'en êtes pas satisfait(e). 
Témoigner du plus grand sérieux concernant les expéditions
Les produits sont stockés dans un local climatisé avant d'être emballés avec soin et envoyés dans les plus brefs délais. Nous sommes fiers de proposer des expéditions dont la rapidité surprend souvent.
Maintenir des prix stables et accessibles
Malgré le coût largement supérieur des ingrédients biologiques, nous avons la satisfaction de vous proposer des tarifs comparables à ceux des produits conventionnels. Les efforts importants de gestion que cela nous demande sont récompensés par les avis positifs que nous recevons à propos du rapport qualité-prix et efficacité-prix des produits. 
Rendre notre impact le plus bénéfique possible
Toute la production se fait depuis toujours chez nous dans le plus grand respect de l'humain et de la nature.
🐓 La majorité des ingrédients sont issus de France, en garantissant le maintien de la biodiversité, les conditions de travail et une rémunération juste des travailleurs. 
🌍 Concernant les ingrédients en provenance de l'étranger, des certifications sévères nous garantissent aussi bien la sécurité des ingrédients que le respect des employés. 
🌱 La filière biologique est une de celles qui offre des rémunérations les plus satisfaisantes aux agriculteurs. 
🐝 En ce qui concerne l'environnement, l'agriculture et la cueillette biologique favorise le maintien des espèces végétales locales et protège la faune locale puisqu'elle n'implique pas de traitements chimiques. 
♻️ Au niveau des emballages, nous utilisons depuis toujours du plastique recyclable. Nos choix de packaging ont été confirmés récemment par l'expert en gestion environnementale des déchets auquel nous avons fait appel.
Précautions d'emploi :
→ Usage externe uniquement.
→ Masser des zones bien sèches afin que l'huile puisse pénétrer correctement.
→ Conserver à l'abri de la lumière, du gel et de l'humidité.
A basse température, l'huile aura une consistance solide la rendant moins pratique à utiliser. Il suffit de placer la bouteille à température ambiante pour qu'elle retrouve sa texture liquide.
→ Macérât huileux et exposition au soleil.
L'Arnica est une plante susceptible de provoquer une sensibilité accrue aux UV (soleil) au niveau des zones traitées. Nous réduisons toutefois ce risque en utilisant l'huile de sésame, qui filtre une partie des rayons UV.
Il est toujours préférable d'appliquer un soin en dehors des plages horaires d'ensoleillement important. Si l'huile est appliquée en journée sur un cheval vivant au paddock/pré, faire un essai sur une petite zone la première fois.
Data sheet
Compositions

Vegetable oils

% Of the product from organic farming:

100%

Main action:

Locomotion

Form

Liquid
Specific references
ean13

3700717509250
Customer ratings and reviews
Reviews
By
(SAINT URBAIN, France) on 02 Apr 2022 (
Arnica macerate
) :
Top produit
Super odeur
Facile d utilisation en massage
Top
Report abuse
2 other products in the same category: