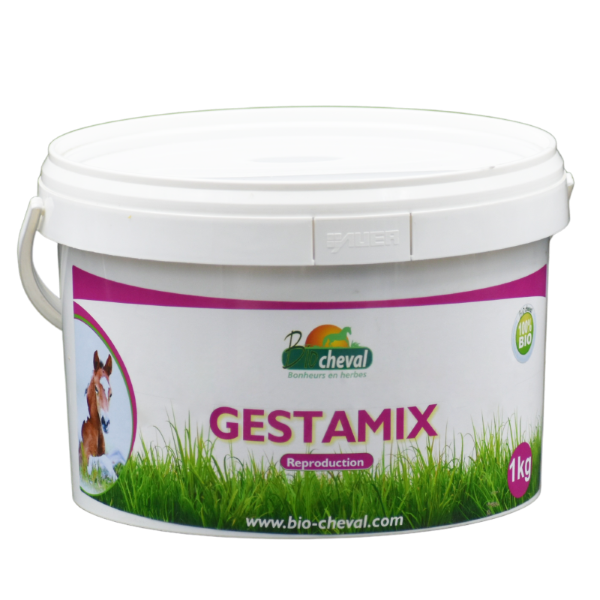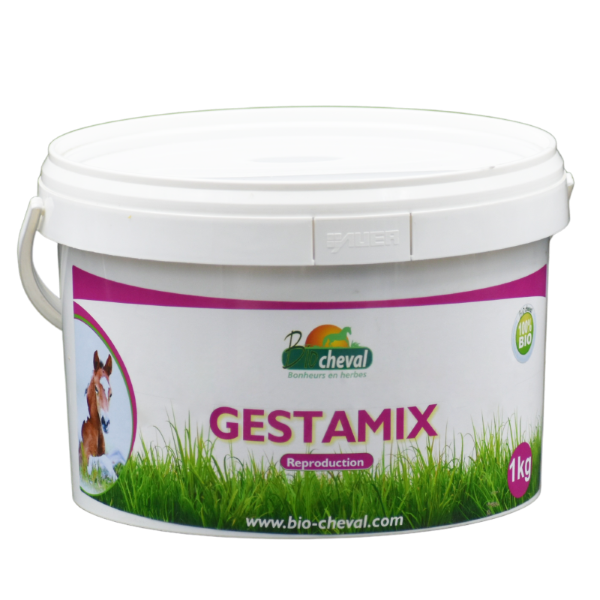 Gestamix
This synergy of plants and seaweeds rich in trace elements, vitamins and minerals allows to complete the contributions for the pregnant mare. Product from organic farming. Bucket of 1 kg.
Livraison gratuite
En France à partir de 75 € d'achats
Paiement sécurisé
Paiement en ligne 100% sécurisé
Garantie satisfaction
Retours gratuits pendant 30 jours
Service client
Du lundi au vendredi de 9h à 18h
Gestamix is administered as a supplement to fodder for specific intakes during gestation.
Plants and algae used
Chia seed, a "super-supplement" that brings together a large number of nutrients needed by the horse, is one of the foods that helps to rebalance the omega-6 / omega-3 intake. It contributes to the hydration of the horse by allowing him to keep his electrolytes. Highly proteinated, it promotes muscle development, joint health, coat and hoof health and the efficiency of the immune system.
Bladderwrack is a real goldmine because of its richness in trace elements (copper, zinc, selenium, potassium, calcium, magnesium, sodium, sulfur, silicon, iron). It also provides proteins (all amino acids) and vitamins C and B. Sulfur is essential for the synthesis of vitamins and the efficiency of hormones.
Nettle is a precious source of vitamins (B2, B5, B9, C, K), minerals (silica, magnesium, iron) and trace elements (copper, zinc). It is known to stimulate lactation.
Spirulina, a nutrient-rich "superfood", is an excellent source of
- beta-carotene (which is transformed into vitamin A according to the needs of the body, without risk of overdose)
- iron
- vitamin B12 (active and assimilable)
- quality proteins (amino acids in quantity and very digestible)
- gamma-linoleic acid (essential fatty acid of the omega-6 family)
- phytocyanine (natural antioxidant)
- numerous minerals
Echinacea helps to wake up the immune system and make it efficient. Its major active ingredients are alkylamides with which it associates phenolic compounds, long chain fatty acids, etc... It is the ally of the horse's immune system!
Artichoke provides a significant amount of vitamins (B and in particular B9, and K) while also improving digestion through its fiber content.
Rosehips are no longer presented as an excellent source of vitamin C. It contains essential fatty acids, minerals, trace elements and other vitamins, which makes it an essential ally in avoiding deficiencies.
The dandelion completes the broad spectrum of vitamins present in the mixture: A, C, E, B6, B1.
It is a source of iron and potassium.
Finally, horsetail is a very useful plant to avoid deficiencies, stimulate development and growth thanks to its many nutrients:
sulfur, iron, manganese, potassium salts, fatty acids, calcium, phosphorus, mineral salts, tannins, flavonoid glycosides, saponin, trace alkaloids, silica.
Composition
Chia, Fucus, Echinacea, Nettle, Spirulina, Artichoke, Rose hip, Dandelion, Horsetail
Directions for use:
Administered as a food supplement integrated into the ration or given alone.
10g per 100kg per day, i.e. 50g per day for a 500kg mare.
Close the bucket well after each use to keep the plants away from humidity.
The plants must be dry and have a pleasant smell.
Bucket of 1kg.
Data sheet
Net weight

1 kg

Compositions

Dried plants and seaweed

% Of the product from organic farming:

100%

Main action:

Reproduction

Secondary action:

Health and Fitness

Mode d'emploi

Distribuer seul ou dans la ration. 10g / jour pour 100kg soit 50g par jour pour un cheval moyen de 500kg.

Astuce

Montez à 15g / jour pour 100kg les premiers jours pour une efficacité rapide. Par la suite, ajustez les quantités en fonction des résultats constatés.

Durée

Une cure correspond à environ 3 semaines de plantes + 1 semaine de pause. Ceci doit évidemment être adapté si nécessaire : les besoins sont propres à chaque individu.
1 other product in the same category: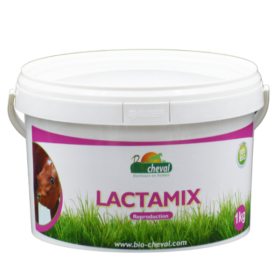 Customer ratings and reviews
Reviews
By
(Le Thil, France) on 19 Apr 2022 (
Gestamix
) :
Produit apprécié
Notre jument apprécie le produit. Elle le prend sans souci dans sa ration.
Elle se porte très bien. Nous espérons avoir bientôt un beau poulain et pensons la passer ensuite sur le lactamix.

Report abuse
By
(Davézieux , France) on 31 May 2021 (
Gestamix
) :
Super produit pour jument gestante
On ne peut pas affirmer que le produit a tout fait mais le résultat est là : ma jument a pouliné d'une pouliche en pleine santé, costaude, bien développée et en pleine forme. Ma jument, quant à elle a adoré la composition de plantes et elle n'a JAMAIS perdu d'état avant et après le poulinage (on est passé sur du LACTAMIX, top aussi!!)
De plus, un service téléphonique très disponible et qui conseille très bien.
Report abuse
By
(Cuges les pins, France) on 01 Sep 2020 (
Gestamix
) :
Excellent produit
Excellent produit de par sa composition de plantes particulièrement adaptée pour les juments gestantes. Facile d'utilisation, peut-être donné sans complément de céréales car très appétant. Je recommande. HR. EQUIPHYTO
Report abuse