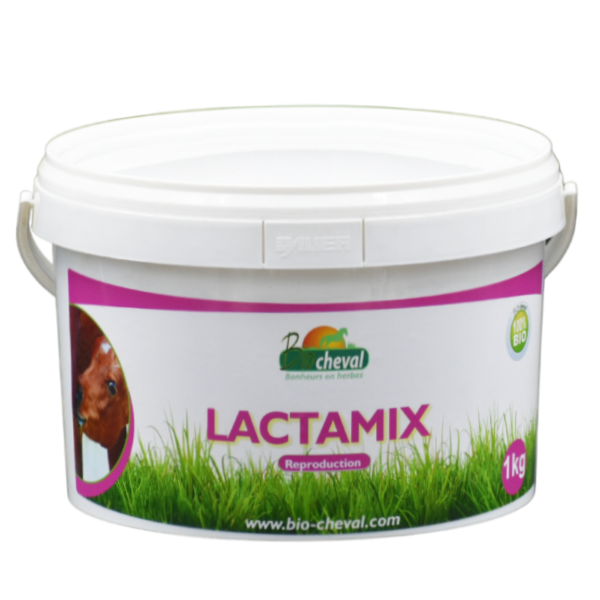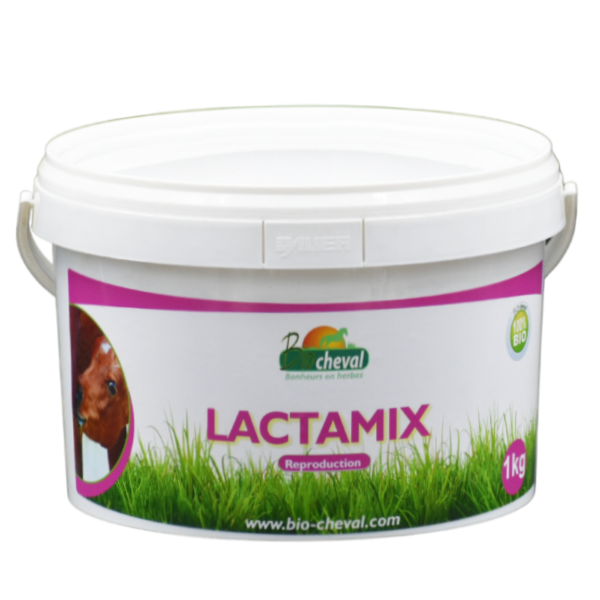 Lactamix 1kg
Lactamix promotes quality lactation and supports the lactating mare. This natural and organically grown composition is a quality feed supplement, with no additives harmful to the health of the mare or foal.
Livraison gratuite
En France à partir de 75 € d'achats
Paiement sécurisé
Paiement en ligne 100% sécurisé
Garantie satisfaction
Retours gratuits pendant 30 jours
Service client
Du lundi au vendredi de 9h à 18h
Two modes of action:
- To promote sufficient lactation.
- To improve the quality of lactation for the good development of the foal.
Plants used
Lactamix combines two essential plants to stimulate lactation:
Fenugreek, which is also an excellent source of interesting nutrients (proteins in large proportions, antioxidants, vitamins and minerals that can be assimilated: phosphorus, iron, sulfur, magnesium, calcium, vitamins A, B1, C ...) and fennel (Vitamin C, potassium, calcium, phosphorus, magnesium, ...).
The benefits of these two plants are combined with the richness of two algae - Fucus and Lithothamnion -and Chia seeds, for a complete intake and quality lactation.
Artichoke and dandelion, traditionally used to support the metabolism and liver functions, improve the assimilation and use of food resources by the brood mare.
Finally, this composition is completed by the presence of two excellent remineralizing plants:nettle (anti-anemic, stimulating lactation) and horsetail, whose richness in silica promotes the growth and maintenance of bone and cartilage tissue.
Composition :
Fenugreek, Fennel
Ascophyllum, Lithothamnion, Fucus, Chia, Artichoke, Dandelion, Nettle, Horsetail
Composition 90% Organic
Plants: 100% from organic farming
Algae: Fucus certified Ecocert
Lithothamnion not certified
Noble parts of the plant/alga. No additives.
Instructions for use and conservation:
Close the bucket tightly after use to preserve the product from humidity.
The plants must be dry and have a pleasant smell.
Seaweed and coral are in powder form: a white or green deposit on the plants is therefore quite normal in products that contain them.
Administered once or twice a day, alone or in the ration
10 grams per 100kg per day. Ex: 50g per day for a 500kg horse.
To obtain the desired effect quickly, the first 5 days, increase to 15g per 100kg ("loading dose").
(A unique dosage that would be suitable for 100% of the horses cannot be defined:
It is through careful observation of the equine that it is possible to adjust the amount to be given each day for optimal action)
One kilo bucket (21 days cure)
Complementary and alternative cures
During pregnancy, it is preferable to use Gestamix to support the mare.
The transition to lactamix can be made one week before term.
Association with other supplements:
Lactamix can be given at the same time as another supplement.
For a broodmare lacking in condition or form, it is possible to combine this product with a course of spirulina, Vitamix or Perfmix.
When it is possible to foresee the due date, a combination of Lactamix and Raspberry can be given the last week before the due date in order to stimulate lactation and facilitate foaling.
Préparer le produit de votre équidé avec le plus grand soin
Tous les produits sont conditionnés dans des contenants étanches et opaques adaptés pour le stockage sécurisé des denrées alimentaires sensibles à l'humidité et à la lumière. 
Utiliser des matières premières végétales non altérées
Les usages traditionnels des plantes dites aromatiques et médicinales s'appuient sur une expérience datant d'avant l'utilisation des pesticides. Pour garantir les propriétés de chaque plante, nous n'utilisons que des ingrédients garantis sans traitements chimiques. Et ce indépendamment des exigences de tout label, simplement parce que nous croyons sincèrement que cela rend nos produits meilleurs. 
Préparer des compléments de qualité en bannissant les sous-produits
Nous utilisons les parties des plantes riches en actif. Ainsi, vous pourrez, si vous connaissez un peu les plantes, reconnaître aisément la fleur de camomille, la feuille de ginkgo biloba ou encore les fleurs de souci.
Garantir votre satisfaction
Nous sommes convaincus par l'efficacité de nos produits et nous nous engageons à vous les rembourser si vous n'en êtes pas satisfait(e). 
Témoigner du plus grand sérieux concernant les expéditions
Les produits sont stockés dans un local climatisé avant d'être emballés avec soin et envoyés dans les plus brefs délais. Nous sommes fiers de proposer des expéditions dont la rapidité surprend souvent.
Maintenir des prix stables et accessibles
Malgré le coût largement supérieur des ingrédients biologiques, nous avons la satisfaction de vous proposer des tarifs comparables à ceux des produits conventionnels. Les efforts importants de gestion que cela nous demande sont récompensés par les avis positifs que nous recevons à propos du rapport qualité-prix et efficacité-prix des produits. 
Rendre notre impact le plus bénéfique possible
Toute la production se fait depuis toujours chez nous dans le plus grand respect de l'humain et de la nature.
🐓 La majorité des ingrédients sont issus de France, en garantissant le maintien de la biodiversité, les conditions de travail et une rémunération juste des travailleurs. 
🌍 Concernant les ingrédients en provenance de l'étranger, des certifications sévères nous garantissent aussi bien la sécurité des ingrédients que le respect des employés. 
🌱 La filière biologique est une de celles qui offre des rémunérations les plus satisfaisantes aux agriculteurs. 
🐝 En ce qui concerne l'environnement, l'agriculture et la cueillette biologique favorise le maintien des espèces végétales locales et protège la faune locale puisqu'elle n'implique pas de traitements chimiques. 
♻️ Au niveau des emballages, nous utilisons depuis toujours du plastique recyclable. Nos choix de packaging ont été confirmés récemment par l'expert en gestion environnementale des déchets auquel nous avons fait appel.
Customer ratings and reviews
Reviews
By
(Sainte barbe , France) on 03 Jun 2023 (
Lactamix 1kg
) :
By
(Saint flour , France) on 13 May 2023 (
Lactamix 1kg
) :
Très bien
J'ai commandé ce produit pour une ponette qui avait du mal à mettre sa lactation en route, nous avons rapidement vu la différence. Sa pouliche tête bien, la mère a du lait en quantité. De plus la ponette qui manquait un peu d'état ( issue d'un sauvetage ) est beaucoup plus jolie
Report abuse
By
(Davézieux , France) on 31 May 2021 (
Lactamix 1kg
) :
top produit
Je recommande ce mélange dont raffole ma jument primipare.
Elle a un lait d'excellente qualité, elle dévore ce mélange tous les jours et ma pouliche grandit très bien.
De plus, la composition permet d'agir sur d'autres fonctions que la quantité et qualité de lait, elle booste l'immunité et aide au drainage hépato renal.
Le rapport qualité/prix est sans conteste.

Report abuse
1 other product in the same category: