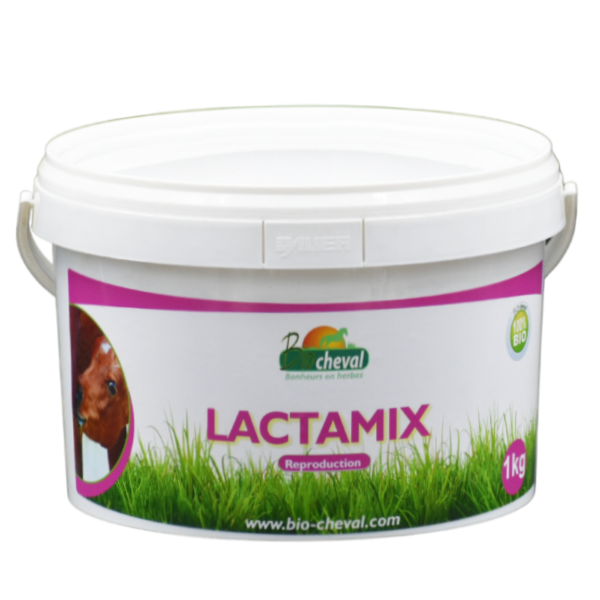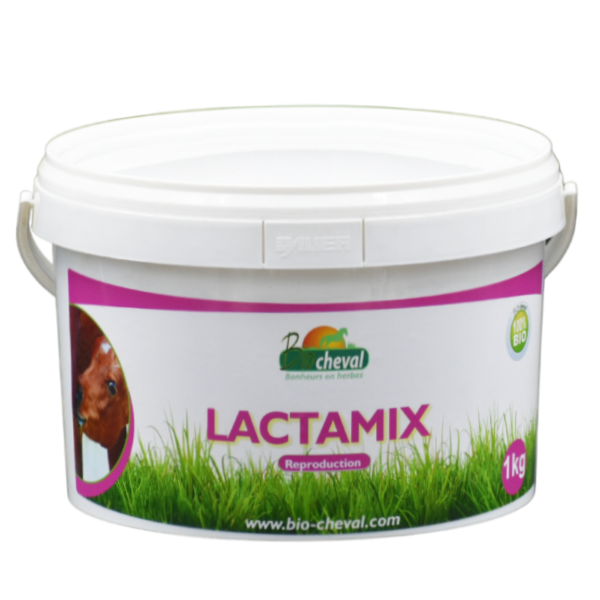 Lactamix 1kg
Lactamix promotes quality lactation and supports the lactating mare. This natural and organically grown composition is a quality feed supplement, with no additives harmful to the health of the mare or foal.
Livraison gratuite
En France à partir de 75 € d'achats
Paiement sécurisé
Paiement en ligne 100% sécurisé
Garantie satisfaction
Retours gratuits pendant 30 jours
Service client
Du lundi au vendredi de 9h à 18h
Two modes of action:
- To promote sufficient lactation.
- To improve the quality of lactation for the good development of the foal.
Plants used
Lactamix combines two essential plants to stimulate lactation:
Fenugreek, which is also an excellent source of interesting nutrients (proteins in large proportions, antioxidants, vitamins and minerals that can be assimilated: phosphorus, iron, sulfur, magnesium, calcium, vitamins A, B1, C ...) and fennel (Vitamin C, potassium, calcium, phosphorus, magnesium, ...).
The benefits of these two plants are combined with the richness of two algae - Fucus and Lithothamnion -and Chia seeds, for a complete intake and quality lactation.
Artichoke and dandelion, traditionally used to support the metabolism and liver functions, improve the assimilation and use of food resources by the brood mare.
Finally, this composition is completed by the presence of two excellent remineralizing plants:nettle (anti-anemic, stimulating lactation) and horsetail, whose richness in silica promotes the growth and maintenance of bone and cartilage tissue.
Composition :
Fenugreek, Fennel
Ascophyllum, Lithothamnion, Fucus, Chia, Artichoke, Dandelion, Nettle, Horsetail
Composition 90% Organic
Plants: 100% from organic farming
Algae: Fucus certified Ecocert
Lithothamnion not certified
Noble parts of the plant/alga. No additives.
Instructions for use and conservation:
Close the bucket tightly after use to preserve the product from humidity.
The plants must be dry and have a pleasant smell.
Seaweed and coral are in powder form: a white or green deposit on the plants is therefore quite normal in products that contain them.
Administered once or twice a day, alone or in the ration
10 grams per 100kg per day. Ex: 50g per day for a 500kg horse.
To obtain the desired effect quickly, the first 5 days, increase to 15g per 100kg ("loading dose").
(A unique dosage that would be suitable for 100% of the horses cannot be defined:
It is through careful observation of the equine that it is possible to adjust the amount to be given each day for optimal action)
One kilo bucket (21 days cure)
Complementary and alternative cures
During pregnancy, it is preferable to use Gestamix to support the mare.
The transition to lactamix can be made one week before term.
Association with other supplements:
Lactamix can be given at the same time as another supplement.
For a broodmare lacking in condition or form, it is possible to combine this product with a course of spirulina, Vitamix or Perfmix.
When it is possible to foresee the due date, a combination of Lactamix and Raspberry can be given the last week before the due date in order to stimulate lactation and facilitate foaling.
1 other product in the same category: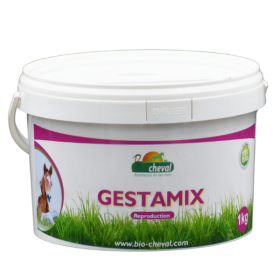 

Can we combine several Bio-Cheval supplements?

It is quite possible to give several products simultaneously.

- It is preferable in this case to give the plants in several times to promote the effectiveness and reduce the risks of waste. Nevertheless, if you can only give the dose of plants in one go, it is not very serious.

- You should avoid giving each mixture every other day as this will make them much less useful. 

Two special cases:  

- It is not recommended to give full doses if you combine several products with seaweed. That could cause an overdose of iodine. Example: Podomix + Lactamix 

- If you buy a pure plant and a mixture of plants, it is necessary to make sure that the pure plant does not already appear in the composition of the mixture. 



Faut-il donner les plantes en cure ou à l'année ?
Customer ratings and reviews
Reviews
By
(Saint sauveur en rue, France) on 31 May 2021 (
Lactamix 1kg
) :
top produit
Je recommande ce mélange dont raffole ma jument primipare.
Elle a un lait d'excellente qualité, elle dévore ce mélange tous les jours et ma pouliche grandit très bien.
De plus, la composition permet d'agir sur d'autres fonctions que la quantité et qualité de lait, elle booste l'immunité et aide au drainage hépato renal.
Le rapport qualité/prix est sans conteste.

Report abuse