huile de massage anti-douleurs articulaires
Highly concentrated 100% natural massage oil, based on arnica macerate and essential oil of wintergreen.
Livraison gratuite
En France à partir de 75 € d'achats
Paiement sécurisé
Paiement en ligne 100% sécurisé
Garantie satisfaction
Retours gratuits pendant 30 jours
Service client
Du lundi au vendredi de 9h à 18h
Theoil of massage Articulation+ is an ointment of care containing Arnica and essential oils to :
- to support the preparation and the muscular recovery related to the effort.
- a soothing action in the event of work supported or of a articular sensitivity.
Composition :
-Macerate ofarnica
-Macerate ofyarrow
-The vegetable oil of Calophylle inophyle
-Essential oil oflemon eucalyptus
-The essential oil of Gaultheria
-The essential oil of Laurel
- Peppermintessential oil
These oils are traditionally used to accompany the curative measures put in place for horses subject to: joint and muscle pain, engorgements, soft tares, lameness.
100% of this composition is ofnatural origin.
100 % are fromorganic farming.
Composition 100% transparent as for other products
: No preservatives, additives, dyes, perfume, silicone,..
Instructions for use:
Apply the gel by massaging the part to be treated in the direction of blood reflux (example:from the bottom to the top of the limbs).
Do not use on an open wound.

Packaging:
Bottle of 500 ml
Data sheet
Compositions

Vegetable and essential oils

Main action:

Locomotion

Form

Liquid
Specific references
ean13

3700717503043
You might also like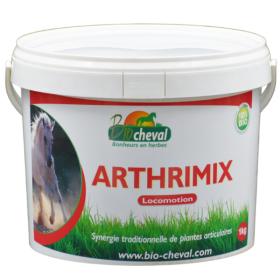 10 other products in the same category:


Can we combine several Bio-Cheval supplements?

It is quite possible to give several products simultaneously.

- It is preferable in this case to give the plants in several times to promote the effectiveness and reduce the risks of waste. Nevertheless, if you can only give the dose of plants in one go, it is not very serious.

- You should avoid giving each mixture every other day as this will make them much less useful. 

Two special cases:  

- It is not recommended to give full doses if you combine several products with seaweed. That could cause an overdose of iodine. Example: Podomix + Lactamix 

- If you buy a pure plant and a mixture of plants, it is necessary to make sure that the pure plant does not already appear in the composition of the mixture. 



Faut-il donner les plantes en cure ou à l'année ?
Customer ratings and reviews
Reviews
By
(Marchin, Belgium) on 30 Jul 2015 (
huile de massage anti-douleurs articulaires
) :
Testé sur mon propre poignet
et très efficace.... testé également sur vieux cheval perclus d'arthrose et donne de bons résultats.
Merci
Report abuse
By
(LA MOTTE, France) on 04 Apr 2014 (
huile de massage anti-douleurs articulaires
) :
efficace
surprenant dans la rapidité du traitement, contrairement à d'autres produits, en une ou deux applications, l'engorgement est résolu, et les croutes qui se forment disparaissent aussitôt. la jument supporte bien l'odeur aussi !

Report abuse
By
(GOMMECOURT, France) on 02 Aug 2012 (
huile de massage anti-douleurs articulaires
) :
à toujours avoir à portée
très bon produit qui se tient dans le temps et qu'on peut utiliser facilement.
ma jument a tendance à engorger ; je lui en mets et 2 jours après c'est terminé tout va bien.
je lui en mets aussi en prévention de gros efforts et après par sécurité. je n'ai pas noté d'accoutumance.
c'est super pour nous qui faisons beaucoup de randonnées!
j'en ai utilisé aussi pour une bursite au garrot qui ne se passait pas et après 3 jours d'application elle avait réduit de moitié. maintenant, il n'y a plus rien( sauf un peu de tissu cicatriciel).
on peut l'utiliser aisément pour bon nombre de problèmes divers et variés. je le conseille fortement à qui veut préserver son cheval de ces divers soucis !
Report abuse