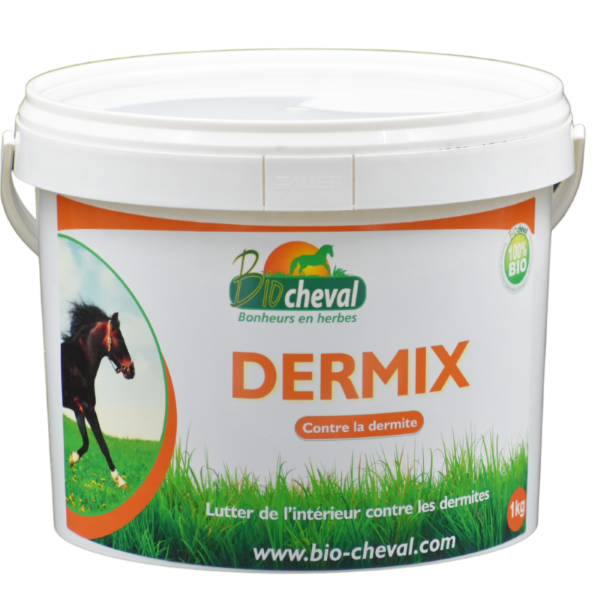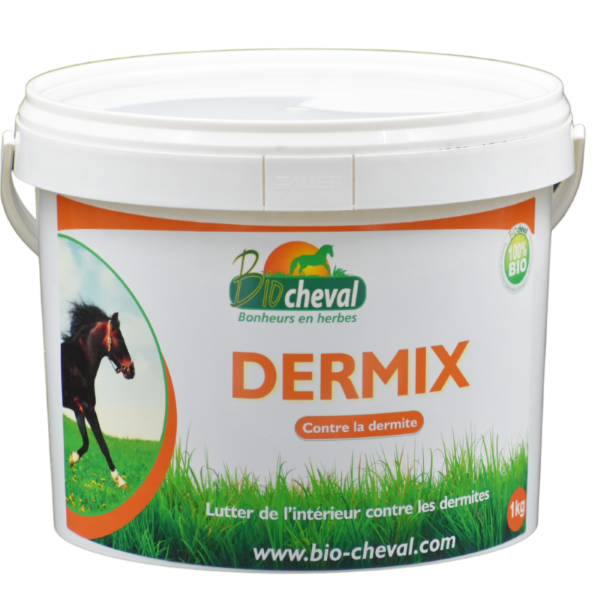 DerMix - Organic - Itching
DerMix is a dietary supplement 100% natural herbal remedies to fight against summer dermatitis.

With this form of skin cleansing herbs, the horse no longer feels the need to scratch.
Livraison gratuite
En France à partir de 75 € d'achats
Paiement sécurisé
Paiement en ligne 100% sécurisé
Garantie satisfaction
Retours gratuits pendant 30 jours
Service client
Du lundi au vendredi de 9h à 18h
The main action of DerMix is to help the horse eliminate toxins.
During the bite, the mosquito injects with its saliva the allergenic substance responsible for the scratching. The depurative action of Dermix helps to eliminate this substance in important quantity in the blood.
The plants used are also rich in vitamins, minerals and trace elements that promote healthy skin and a shiny coat

The plants used :
The burdock and lthe burdock and the wild pansy, rich in tannins, flavonoids and vitamins E, with depurative properties
Dandelion root andartichoke are used to cleanse the entire body.
Nettle is rich in vitamins (Vit B2, B5, C, A, E...) and minerals (magnesium, iron, silica) and trace elements (copper, zinc). Its beneficial action on the problems of skin is exerted thanks to the anti-inflammatory effect of Zinc.
Echinacea stimulates the immune system thanks to the alkylamides it contains
Directions for use:
Administered once or twice daily, alone or given in the ration
10 grams per 100kg per day. Ex: 50g per day for a 500kg horse.
To obtain the desired effect quickly, the first 5 days, increase to 15g per 100kg ("loading dose").
(A unique dosage that would be suitable for 100% of the horses cannot be defined
It is through careful observation of the equine that it is possible to adjust the amount to be given each day for optimal action)
One kilo bucket (21 days cure)
Close the bucket after each use to preserve the product from humidity.
The plants must be dry and have a pleasant smell
Composition :
In the form of dried plants: burdock root, wild pansy, nettle, echinacea, dandelion, artichoke.
100% of the plants used are certified organic.
Data sheet
Net weight

1 Kg

Weight with packaging:

1100g

Volume of packaging:

8 liters

Main action:

Anti-allergic dermatitis and anti-

Secondary action:

Detoxifying
You might also like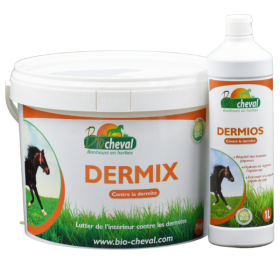 5 other products in the same category:
Customer ratings and reviews