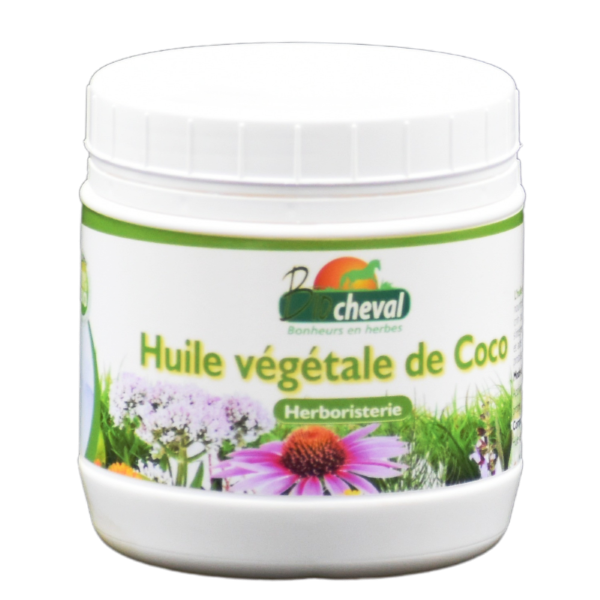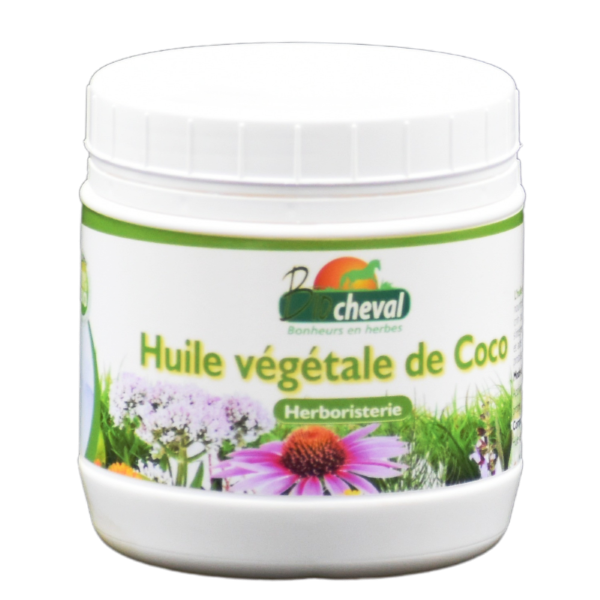 Coconut Vegetable Oil - Organic - Mane, Skin, Digestion
The ally of the skin and digestion.
This oil can be used to make home-made "DIY" treatments as well as for the beauty of the hair and the coat.
Internally, it facilitates digestion, transit and the taking of medication
Livraison gratuite
En France à partir de 75 € d'achats
Paiement sécurisé
Paiement en ligne 100% sécurisé
Garantie satisfaction
Retours gratuits pendant 30 jours
Service client
Du lundi au vendredi de 9h à 18h
Organic coconut vegetable oil
Examples of use :
- Ration supplement
- Digestion of delicate horses
- Taking supplements and medicines that are not very palatable
- Skin care
- Protective barrier against insects in sensitive areas (around the udder, genitals, ...)
Composition :
Vegetable oil of coconut
Organic ingredients
100%
Packaging
500ml resealable jar
Directions for use
This product can be incorporated into a ration (internal use) or applied to the skin (external use).
No particular contra-indication known
Apply to the skin in periods of low sunlight
Conservation
Close the product well after each use to preserve the product from humidity.
Data sheet
Compositions

Vegetable oils

% Of the product from organic farming:

100%

Main action:

Skin and hair

Secondary action:

Digestion
Specific references
ean13

3700717500257
10 other products in the same category:


Can we combine several Bio-Cheval supplements?

It is quite possible to give several products simultaneously.

- It is preferable in this case to give the plants in several times to promote the effectiveness and reduce the risks of waste. Nevertheless, if you can only give the dose of plants in one go, it is not very serious.

- You should avoid giving each mixture every other day as this will make them much less useful. 

Two special cases:  

- It is not recommended to give full doses if you combine several products with seaweed. That could cause an overdose of iodine. Example: Podomix + Lactamix 

- If you buy a pure plant and a mixture of plants, it is necessary to make sure that the pure plant does not already appear in the composition of the mixture. 



Faut-il donner les plantes en cure ou à l'année ?
Customer ratings and reviews
Reviews
By
(VERT SAINT DENIS, France) on 26 Mar 2022 (
Coconut Vegetable Oil - Organic - Mane, Skin, Digestion
) :
Un produit polyvalent
J'utilise l'huile de noix de coco depuis plusieurs années sur mon hongre sur les sabots, la crinière et queue, sur les petits bobos et contre les insectes au niveau des oreilles, autour des yeux et la zone près du fourreau.
Report abuse
By
(REAUX SUR TREFLE , France) on 27 Nov 2021 (
Coconut Vegetable Oil - Organic - Mane, Skin, Digestion
) :
Très bon produit
Je m'en sers de support pour y mettre des huiles essentielles et c'est parfait. Ça fige l'hiver mais il suffit de le réchauffer dans ses mains avant d'appliquer.
Report abuse