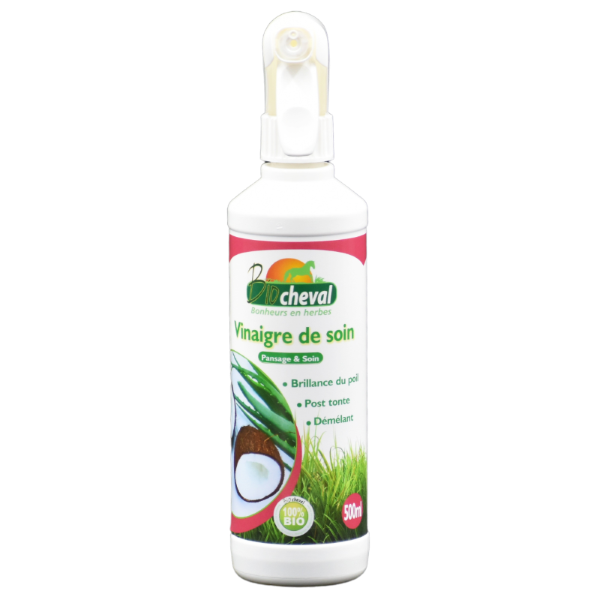 Care Vinegar - Coconut & Aloe Vera - Dressing, brushing, shearing
Combine the benefits of coconut vinegar and aloe vera.
This spray is used during grooming or shearing to care for and clean the skin
It detangles the manes without making them slippery by giving them a shinier appearance.
Ingredients
Coconut vinegar, Aloe Vera. 100% Organic
Livraison gratuite
En France à partir de 75 € d'achats
Paiement sécurisé
Paiement en ligne 100% sécurisé
Garantie satisfaction
Retours gratuits pendant 30 jours
Service client
Du lundi au vendredi de 9h à 18h
A natural, organic and versatile care vinegar!
Benefits
✔ Coconut vinegar improves the appearance of hair and mane, making them softer and shinier.
✔ It allows to clean the skin after shearing and to eliminate easily the residues.
✔ The selected ingredients have a cleansing effect on the skin. They can be applied after shearing to reduce dandruff.
✔ This treatment is also a natural detangler that has the advantage of not making the hair slip. It can be used on the mane before going up, as well as for plaiting.
✔ Aloe vera soothes skin that has been overheated by shearing. It softens the skin in areas with small wounds or abrasions that are not serious.
✔ Coconut vinegar is among the least odorous, which makes it much more pleasant to use.
Usage & Instructions
Detangling - Shine for the coat
Shearing Care Vinegar
Shake well before use.
Spray directly on the horse or use a brush/cloth for application.
Avoid eyes and mucous membranes
Storage
Close the bottle well after each use.
Store the product in a dry place at room temperature
Packaging
Bottle with spray nozzle
250 ml, 500ml or 1L
Data sheet
Compositions

Plant materials

% Of the product from organic farming:

100%

Main action:

Skin and hair

Form

Liquid
Specific references
ean13

3700717500127
You might also like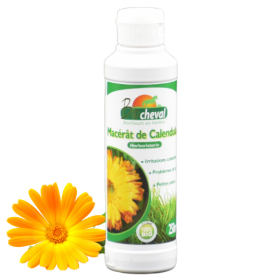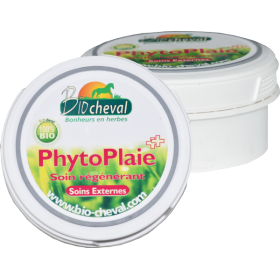 10 other products in the same category:


Can we combine several Bio-Cheval supplements?

It is quite possible to give several products simultaneously.

- It is preferable in this case to give the plants in several times to promote the effectiveness and reduce the risks of waste. Nevertheless, if you can only give the dose of plants in one go, it is not very serious.

- You should avoid giving each mixture every other day as this will make them much less useful. 

Two special cases:  

- It is not recommended to give full doses if you combine several products with seaweed. That could cause an overdose of iodine. Example: Podomix + Lactamix 

- If you buy a pure plant and a mixture of plants, it is necessary to make sure that the pure plant does not already appear in the composition of the mixture. 



Faut-il donner les plantes en cure ou à l'année ?
Customer ratings and reviews
Reviews
By
(Andouillé Neuville, France) on 30 Jul 2022 (
Care Vinegar - Coconut & Aloe Vera - Dressing, brushing, shearing
) :
Fait son job
Produit sympathique, efficace. Les crins se démêlent très bien même après un semaine à laisser tout en vrac.
Il faut le laisser agir un peu plus longtemps qu'à produit non naturel, et il faut en mettre un peu plus à mon goût. Du coup on consomme un peu plus... !
Mais chouette produit !
Livraison toujours rapide quelque soit l'achat, toujours appréciable quand on a besoin d'un produit rapidement pour la gratte.
Report abuse
By
(Grenoble, France) on 19 Mar 2022 (
Care Vinegar - Coconut & Aloe Vera - Dressing, brushing, shearing
) :
The customer has rated the product but has not posted a review, or the review is pending moderation
By
(Plouha, France) on 14 Feb 2022 (
Care Vinegar - Coconut & Aloe Vera - Dressing, brushing, shearing
) :
Bon produit
Je l'utilise depuis quelques jours sur mon cheval, il démêle bien la crinière.
Report abuse
By
(SAINT CANNAT, France) on 18 Jan 2022 (
Care Vinegar - Coconut & Aloe Vera - Dressing, brushing, shearing
) :
bien
Mis à part l'odeur du vinaigre ce produit reste un bon démélant/soin pour les crins.
Report abuse